Varina Banks Howell Davis
(1826-1906)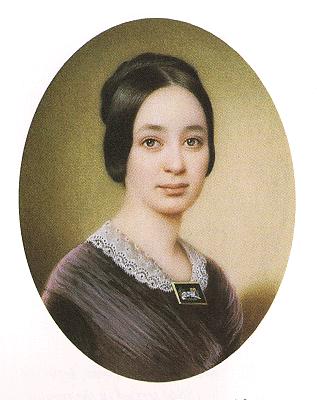 Watercolor on ivory, by John Wood Dodge, 1849
National Portrait Gallery Smithsonian Institution
Varina, the daughter of William and Margaret Howell, met Jefferson Davis when she was only seventeen years old. The first encounter did, however, make a memorable impression on her. She wrote her mother soon after their meeting:
"I do not know whether this Mr. Jefferson Davis is young or old. He looks both at times; but I believe he is old, for from what I hear he is only two years younger than you are [the rumor was correct]. He impresses me as a remarkable kind of man, but of uncertain temper, and has a way of taking for granted that everybody agrees with him when he expresses an opinion, which offends me; yet he is most agreeable and has a peculiarly sweet voice and a winning manner of asserting himself. The fact is, he is the kind of person I should expect to rescue one from a mad dog at any risk, but to insist upon a stoical indifference to the fright afterward." [from The Papers of Jefferson Davis, Volume 2, pages 52-53]
Just over a year later, Davis and Varina Howell were married at The Briars, her parents' home in Natchez, Mississippi.
Varina Davis was well-educated and possessed as strong a will as her husband. They had their differences at times over the fifty-four years of their marriage, but they remained devoted to each other through several decades of remarkable hardship. After Jefferson Davis' death in 1889, Varina Davis published Jefferson Davis, A Memoir in 1890, then moved to New York City the following year to pursue a literary career.
For more information on Varina Howell Davis, see the Jefferson Davis Bibliography and the published volumes of The Papers of Jefferson Davis.